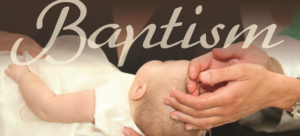 Sacrament of Baptism
The sacrament of baptism ushers us into the divine life, cleanses us from sin, and initiates us as members of the Christian community. It is the foundation for the sacramental life.
Participating in God's Family is not like participating in any earthly club or organization. There is something deeper and more meaningful going on; something that doesn't just begin and end with us. Rather, our participation in the life of the Church begins with an invitation from God to become his children. We say yes to the invitation through our participation in the sacraments — in particular, the Sacraments of Initiation: Baptism, the Eucharist, and Confirmation.
Our Most Recent Christian
Nora Catherine Anthony
daughter of Matthew and Jamie Anthony

Heavenly Father,
we welcome this child into the family of your Church,
that they may walk with us in the way of Christ, and grow
in the knowledge of your love. Amen.
"Let the children come to me" Mark 10:13-16
May the sanctifying grace she received at her baptism, through the power of the Holy Spirit, be nurtured by her family, godparents, and friends on her journey of faith.
Baptism Announcements
Nora Catherine Anthony - November 25, 2023
Zachary Michael Bilinski - December 31, 2022
Serafina Maria Ayzenberg - November 26, 2022
Addison Grace O'Reily - October 29, 2022
Austyn Declan Kessler - October 23, 2022
Colin James O'Riely - February 11, 2018 Baptism
Nora Rosalie Cook December 11, 2016 Baptism
Riley Alyn Horn April 26, 2015 Baptism
Holy baptism is the basis of the whole Christian life, the gateway to life in the Spirit (vitae spiritualis ianua), and the door which gives access to the other sacraments. Through Baptism we are freed from sin and reborn as sons of God; we become members of Christ, are incorporated into the Church and made sharers in her mission...
Catechism of the Catholic Church, 1213