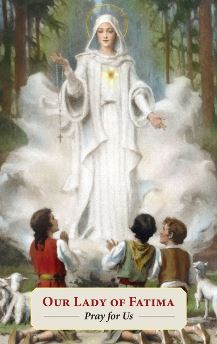 Mission
The Fatima Women's Prayer Ministry is a group of women that want to honor Mary's requests to help bring more souls to Her Son thru the prayers of the rosary and the Fatima prayers before the Blessed Sacrament. We seek to grow in our spiritual life thru faith sharing, scripture, and the advice and knowledge of the saints. We hope to carry this message of hope and love to all we meet. We are sisters in Christ and are always looking forward to having new members join us in our prayer ministry to help "lead all souls to Heaven".
Our ministry meets on the third Monday of the month unless it is a Holy Day or a Holiday. Check the church bulletin or calendar for additional details.
We begin in the Parish Center for faith sharing and updating our prayer intentions, then proceed to church for praying the Holy Rosary and the Fatima Prayers.
Please Contact Eileen if you would like additional information about this ministry at the Parish Office number 585-227-8980.

May Crowning
Parish Involvement and Social Support Activities at St John's
1st Saturday Devotions
Fatima of Public Rosary Rally
Praying the Rosary 1/2 hour before Sunday Mass
May Crowning
Hands of Christ Reception
Sunday Coffee Hour
Stations of the Cross
Parish Lenten Fish Fry
History
The Fatima Women's Prayer Ministry was started in May 2017, which marked the 100th year Anniversary of Our Blessed Mother's apparitions at Fatima to three young shepherd  children.   Our Lady repeatedly instructed the children to pray the rosary every day to bring peace to the world.  Her message was one of prayer, penance and conversion.
Check the Bulletin or Parish Calendar for additional information.